In Alabama, to get and keep a permit/driver's license, the driver must be enrolled in school if the driver is younger than 19 unless they are a high school graduate. (Alabama Code Title 16. Education § 16-28-40). This applies to Homeschooled students as well.
This page is here to help you get on the road journey. You'll find a link to a practice app, information regarding car magnets, and paperwork for the DMV.
Some of this info includes specific locations that are SAH-specific, but the paperwork and required docs are suitable for the entire state of Alabama!
1. Get the app and practice!
The test they give you looks almost identical to the app that you practice on, and the app produces a score so you know how well you are doing before you book that testing appointment! Both the Android and Apple apps are free!
When your teen starts to practice driving on main roads, you may find other drivers to be less than sympathetic, and sometimes short-tempered.
Getting magnets made ALL the difference to my kid's time and anxiety on the roads. Drivers were infinitely more patient around us with them and even gave the teens a wide berth.
A set of three is less than $10 on Amazon and gives you a magnet for each side of the car and one for the back.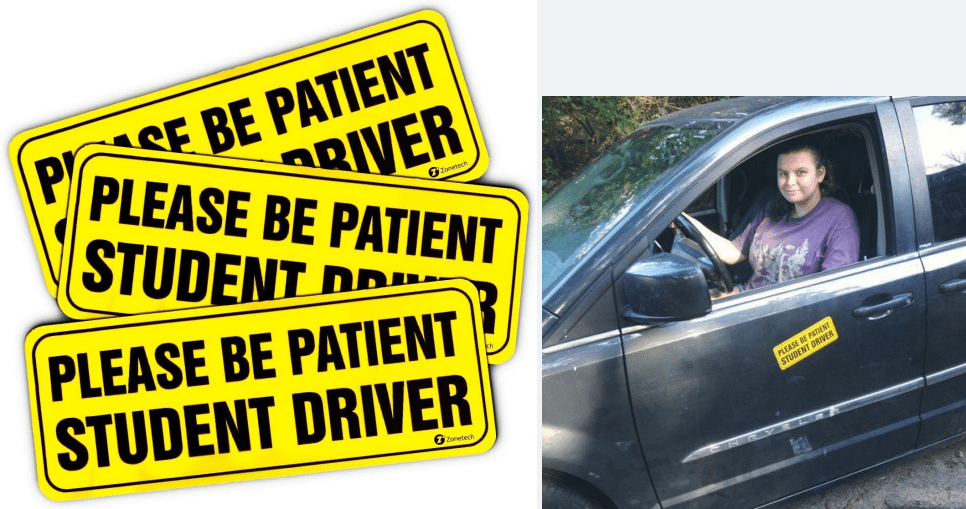 3. Collect your documents!
Stage I (Learner's Permit)
A Stage I license (learner's permit) authorizes teens to drive when accompanied by a parent, legal guardian, or licensed driver who is age 21 or older and occupying the front seat beside the licensee.
Teens may also drive when accompanied by a licensed or certified driving instructor occupying the front seat beside the licensee.
Stage II (Restricted License)
Must not drive during the hours of midnight to 6 a.m. unless accompanied by a parent or legal guardian, accompanied by a licensed driver who is age 21 or older with a parent or legal guardian's consent, going to or from an event sponsored by a school or religious organization, going to or from a place of employment or driving for the purpose of a medical, fire or law- enforcement related emergency. Must not have more than one passenger in the vehicle other than parents, legal guardians, or family members.
4. Schedule an appointment!
Click the following buttons to get started with the making an appointment.
DRIVERS ED: If you are looking to take Drivers Ed to get a discount on your insurance, call ahead and make sure your insurance gives discounts for this, and/or see if they will count YOU as a teacher. Some insurance companies only give grade discounts, and others will let you as their teacher count as lessons to get you a discount on that. Several local high schools offer Drivers Ed programs over the summer that you can sign up for and participate in.
PERSONAL NOTE (OPINION): For the South Alabama region, we found the Fairhope DMV to be the most pleasant place for taking the permit test. The people felt much more homeschool-friendly, and it was worth the drive. Also if your printer is on the fritz and you need to print that homeschool affidavit there is a UPS store just around the corner from the Fairhope DMV that opens several hours earlier than it does.