Erin's Gulf Coast Homeschool Adventures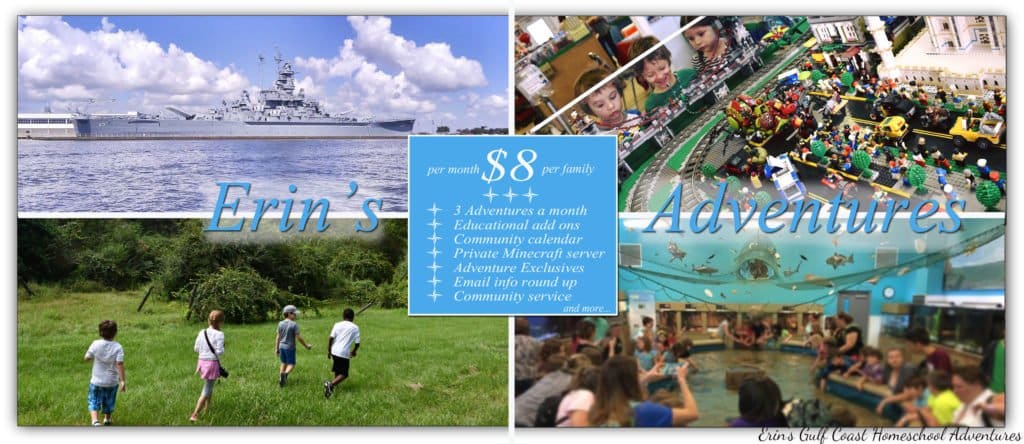 We Adventure between Pensacola FL and New Orleans, LA, but stay primarily around the Alabama and Mississippi coasts! Recent Adventures have included art museums, dolphin shows, shrimp boat rides, historic homes, Indoor water parks, Indian festivals, and opportunities for KIDS to teach their peers all about historic artifacts!
All Adventures have accompanying materials for you to use in your home to build on what was learned on the Adventure. Even the water park was an opportunity to learn about the physics of building one, and the chemistry of maintaining the water, among other things! Unit studies, lapbooks, videos, and lessons, everything you need to add as much as you want!
Community Events Calendar
On our website is a calendar maintained with the Adventures we have planned, as well as happenings in the community! At a glance, you are sure to be able to find something fun to do near you on any given day! As well as links to the events for full details!
This includes content on the website AND in the group! From animal cams with educational add-ons to a Shark Week thread full of fun stuff to use, as well as updates on virtual Adventures I find! School picture opportunities will be offered here as well this fall! You will also find lists of links to podcasts and other resources that would be of interest to homeschool kids AND parents!
This one is very important to me, and it's very important that ALL ages are able to participate. They are never too young to start learning to give back! As to this we have been named an Alabama Bicentennial school based on our work with Feeding the Gulf Coast and their community garden! We have also cooked for Ronald McDonald House, sorted toys with Toys for Tots, and filled Easter baskets for children stuck in the hospital for the holiday!
ALL of this for one low family rate of $8 per month! Sign up below and join us TODAY! Also, be sure to SHARE this POST! Summer events are being added SOON and you don't want to miss out on ANYthing!
#ErinsAdventures
#Thathomeschoollife
#besuretoSHARE
Adventure Membership
3 Adventures Per Month

Educational Add-Ons

Community Calendar

Adventure Exclusives

Email Info Round Up

Community Service

...and More!
*cost of Adventures are additional. Some are FREE, most are around $5, and bigger Adventures may cost more. No adventure is required to attend.
To sign up fill out This Google Doc
And THIS Paypal link